IMPRESSIONI JAZZ
who?

We are Silvana Matozza and Guido Bonacci, two photo-video makers searching an impressive and meaningful style in creating digital imagines linked to jazz music world.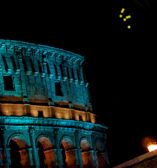 Silvana and I started to explore this new imaginative field because very fond of jazz.We had the chance to go to cosy jazz clubs and to important concert halls in the charming Rome by night and so sounds, music, emotions and feelings, interesting and crazy people became the target of our research.
Using films and photos, we try to represent the amazing aspects of jazz music world according to our sensations, MUSIC TURNED IN IMAGES!
AS the title of our first exibition, our site will be "IMPRESSIONI JAZZ" It is our showroom for photos and musical videos and, at the same time, a proposal for a dialogue.
Please, contact us and click:

postmaster@impressionijazz.com
( traslated by our friend Annamaria Centurioni )